Beyblade Burst Ultimate Layer Series Set 3pcs with Golden Beyblade Toys B-197 Divine Belial.Nx.Ad-3
Regular price

$120.00 AUD

Sale price

$76.00 AUD
Beyblade Burst Ultimate Layer Series Set 5pcs: B191 B192 B193 B195 B197 and a Gold Bey(random)
 Individual Beyblade. No launcher. No ripcord.
Buy 4 Get 1
Golden
FREE
Shipping by 4PX & Delivery 10-25 days
Are you looking for the ultimate Beyblade Burst experience? Look no further than the Beyblade Burst Ultimate Layer Series Set, now available at Beytoys.com. With three powerful Beyblade Burst tops included in this set, your child can engage in epic battles and become a true Beyblade champion.
The Beyblade Burst Ultimate Layer Series Set features three different tops: Divine Belial NX, Imperial Dragon Ignition', and Rage Longinus Destroy'. Each top features a unique design and a powerful spinning mechanism that allows it to spin for longer and hit harder than other Beyblade tops. With these tops in your child's arsenal, they can take on any challenger and emerge victorious.
One of the standout features of this set is the inclusion of a golden Beyblade top. The Divine Belial NX top is plated in gold, making it a truly special addition to your child's collection. This top is not only visually striking, but also highly effective in battle. Its unique design allows it to spin faster and hit harder than other tops, giving your child an advantage in any battle.
The Imperial Dragon Ignition' top is another standout in this set. With its fiery design and powerful spin, this top is sure to intimidate any opponent. The top also features an ignition system that allows it to boost its speed and power mid-battle, making it a formidable opponent.
The Rage Longinus Destroy' top rounds out this set with its sharp design and aggressive spinning mechanism. This top is perfect for aggressive players who like to launch their tops at high speeds and dominate their opponents.
As a parent, you may be wondering about the safety of these Beyblade tops. Rest assured that the Beyblade Burst Ultimate Layer Series Set is made with safety in mind. The tops are made from durable and non-toxic materials that can withstand the wear and tear of intense battles. Additionally, the tops are designed to be easy to assemble and disassemble, making it simple for your child to customize and upgrade their tops.
If you're looking to enhance your child's Beyblade collection and take their battles to the next level, the Beyblade Burst Ultimate Layer Series Set is the perfect choice. Not only do these tops offer a visually stunning addition to any collection, but they also provide the power and performance needed to dominate in any Beyblade battle.
Order your Beyblade Burst Ultimate Layer Series Set today and give your child the gift of endless hours of imaginative play and thrilling battles. With these powerful and visually striking Beyblade tops, your child can become a true Beyblade champion and take on any challenger that comes their way.
NOTES:

This is from the Beyblade Burst Ultimate Layer Series Set 3pcs with Golden Beyblade Toys B-197 Divine Belial.Nx.Ad-3 .

It has been removed from the packaging to sell it individually.
SHIPPING INFORMATION

Ships worldwide
Fast Shipping Guarantee
Shipping within 1-2 days
Delivery within 7-20 days
RETURNS POLICY

We hope you to love it, but if you need to make a return, breathe easy. Returns are always free and can be done in person or by mail.
Regarding Giveaway

Generally speaking, for every 4 Beyblade toys purchased, 1 Golden Beyblade will be given away.
This rule does not apply to some Sets, and we will inform you in detail in the description.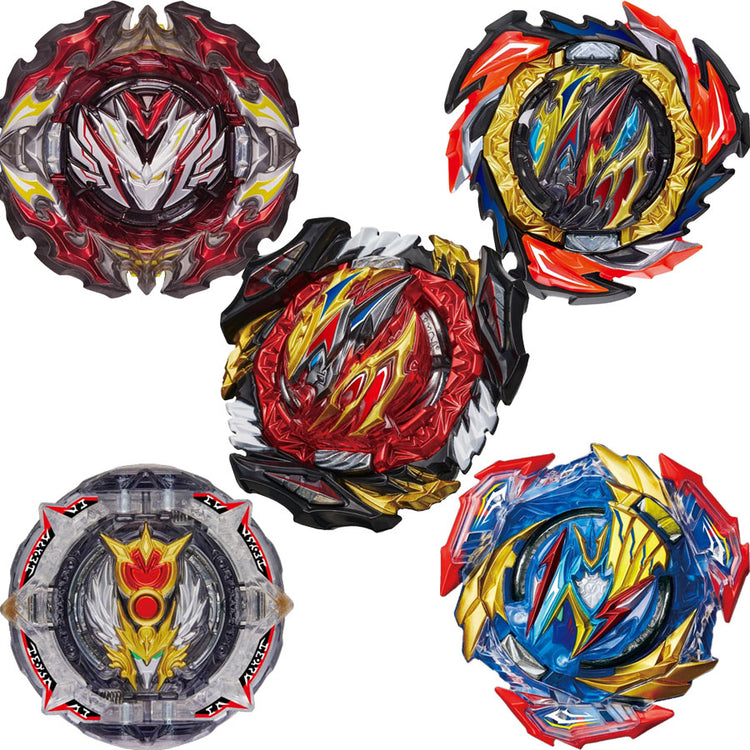 Guarantees
Cost-effective guarantee
Welcome to our We may not be the cheapest Beyblade seller.But Bey Toys is unquestionably the best buy store.
Fast Shipping Guarantee
Ships in 1-2 days7-20 days deliveryShips worldwide
Return Guarantee
If you don't like the toy, tell us and we will arrange a 100% refund or re-shipment for you.
Product Safety Guarantee
Your Bey Toys will be packaged in plastic box and perfectly wrapped in bubble wrap.
Product Details
Package

The product is sealed and packaged in a PVC bag,
For safe transportation, we will protect it with a plastic box.
Products do not use cardboard boxes with official logos.
Delivery Information

How much does shipping cost?
Shipping is free for orders over 50 AUD worldwide.
Otherwise it's anywhere from $5 to $19 depending on what you order and where it's going.

How long does shipping take?
We ship out orders within 24-48 hours after you place your order. Standard shipping arrive anywhere between in 7-20 business days, while Expedited takes only 5 business days.

Returns
We gladly accept returns of unworn, undamaged or defective merchandise purchased online for delivery that shipped to a CHINA address for a full refund or exchange within 7 days from the delivery date.

For details visit our Shipping and Return Policy.
Customer Service

Happy to chat! Feel free to contact us using our form or chat service. Our hours of operations are from 11:00 am to 5:00 pm Eastern Time, Monday to Friday, not including Holidays.